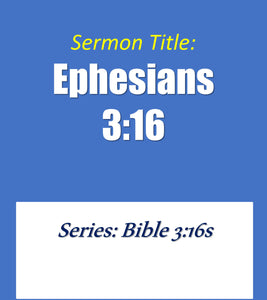 This is the Introduction to the Sermon. You will receive the full manuscript sermon in Word format when you purchase.
Title: "Ephesians 3:16"
Series: Bible 3:16s
Introduction:
[1]In his book The Divine Commodity, Skye Jethani shares a story from a trip he took to India with his father. While walking the streets of New Delhi, a little boy approached them. He was "skinny as a rail, and naked but for tattered blue shorts. His legs were stiff and contorted, like a wire hanger twisted upon  itself." Because of his condition, the little boy could only waddle along on his calloused knees. He made his way toward Skye and his father and cried out, "One rupee, please! One rupee!" Skye describes what happened when his father eventually responded to the boy's persistent begging:
"What do you want?" [my father asked].
"One rupee, sir," the boy said while motioning his hand to his mouth and bowing his head in deference. My father laughed.
"How about I give you five rupees?" he said. The boy's submissive countenance suddenly became defiant. He retracted his hand and sneered at us. He thought my father was joking, having a laugh at his expense. After all, no one would willingly give up five rupees. The boy started shuffling away, mumbling curses under his breath.
My father reached into his pocket. Hearing the coins jingle, the boy stopped and looked back over his shoulder. My father was holding out a five-rupee coin. He approached the stunned boy and placed the coin into his hand. The boy didn't move or say a word. He just stared at the coin in his hand. We passed him and proceeded to cross the street.
A moment later the shouting resumed, except this time the boy was yelling, "Thank you! Thank you, sir! Bless you!" He raced after us once again—but not for more money but to touch my father's feet. …
This, I imagine, is how our God sees us—as miserable creatures in desperate need of his help. But rather than asking for what we truly need, rather than desiring what he is able and willing to give, we settle for lesser things. [end of illustration.]
As we approach our second 3:16 of the Bible, Ephesians 3:16, we'll see that we, just like this little boy, expect much less from God than what He is willing to give. Paul prayed for five specific blessings for each and every one of us who follow Jesus Christ.
Let's look at the context of our key passage, and then we can break it down:
For this reason I bow my knees before the Father, from whom every family in heaven and on earth is named, that according to the riches of his glory he may grant you to be strengthened with power through his Spirit in your inner being, so that Christ may dwell in your hearts through faith—that you, being rooted and grounded in love, may have strength to comprehend with all the saints what is the breadth and length and height and depth, and to know the love of Christ that surpasses knowledge, that you may be filled with all the fullness of God. -- Ephesians 3:14–19 (ESV)
The first blessing is:
[1] Skye Jethani, The Divine Commodity (Zondervan, 2009), pp. 113-114