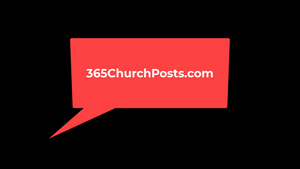 365 Customized Social Media Posts for Your Church or Ministry
Looking for a way to stand out on social media? 365 Customized Social Media Posts for Your Church or Ministry will help you do just that! These unique, square-graphic designs are perfect for Instagram, Facebook, and other social media platforms. They're customized with your name and website information, so you can easily share your ministry's story with the world.

Once you order we will customize all 365 Social Media Posts with your personal information on the two lines at the bottom of each graphic. Once completed, we will send you your download link. You can post one graphic every day for a year or as often as you like on as many platforms as you choose!

SAMPLES
Each message has professional artwork and/or fonts so that you can be proud of what you are posting. And the best thing is, these will really draw the attention of those you drive to your social media pages. Your contact information will be front and center for all your visitors to see.

This is an incredible value that we are offering for a limited time. Please take advantage of this today!

Frequently Asked Questions
Q: How many graphics will I receive in total?
A: 365
Q: What graphic format do these come in?
A: .png and .jpg
Q: What information can I put on the bottom?
A: Anything you want that will fit on the two lines provided. We suggest your church/ministry name, and either your website or phone number.
Q: How will I give you my personal information I want on the graphics?
A: We will send you an email after your order asking for that info.
Q: How long will it take before I receive my order?
A: Usually 2-3 days or less. We will send you an email with your download link when they are ready.
Q: Will the print be clearer on the finished graphic than on the samples?
A: Yes, it will be clear. The samples are truncated. The actual graphic size is 12" x 12"