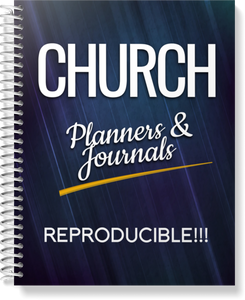 NOTE: This is a digital download, not a physical book! You will be taken to a download link and sent an email immediately after purchase.

Your Church Planner contains over 100 Pages on 8.5" by 11" sheets for Record Keeping, Handouts, Preparation, and much, much more!

Everything comes in MS Word and PDF Format so you can edit whatever you like to fit your needs. You can make 1 copy, or 1,000 or more. It is completely up to you. In some cases we have made multiple styles of similar documents for you to choose from.


LIST OF DOCUMENTS
Church Management
Statement of Faith
Our Belief Statement
Leadership Team Organization 
Church Leadership Team
Leadership Team Responsibilities
List of Elders/Deacons
List of Team Roles
List of Team Leaders
Team Leader Contact Details
Team Contact Details
Monthly Income and Expenses
 Church Planning
Sermon Plan
Weekly Planner
Annual Church Events Schedule
List of Events
Meeting Agenda
Meeting Minutes
Event Plan
Event Contact List
Event Information Sheet
Event Action Plan
Event Review Sheet
Sunday Roster
Service Team Roster
Sunday School Lesson Plan
Church Records
Directory of Members
Sunday School Members
Record of Christenings / Dedications
Record of Baptisms
Record of Weddings
Record of Funerals
Record of Facilities Hire
Event Attendance Register
Sunday School Attendance Register
Church Handouts
Church Bulletin
Bible Study Flyer
Service Attendance Card
Church Visitor Card
Bookmark Template
Christian Planners and Journals
Monthly Planner
Weekly Planner
Sermon Notes
Bible Study Log
Daily Bible Study
Prayer Requests
Favorite Bible Verses
BONUS! You'll receive our Complete sermon series, "Church as God Intended," including four full-manuscript messages, bulletin handouts, and PowerPoint files (a $30 Value).