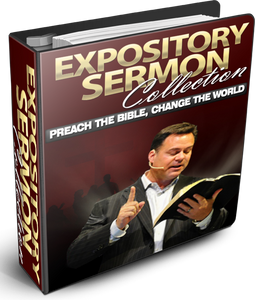 Note: The graphic is for illustrative purposes only. This is a digital download product. You will not be mailed a physical copy.

🌟 Are You a Pastor Looking for a Wealth of Sermon Material? Look No Further! 🌟
📖 Introducing the "Expository Sermon Collection" 📖
Unlike Our Teaching Manuals, This is a Treasure Trove of Sermons Designed to Equip You for Years of Powerful Preaching!
What's Inside?
📚 Six Volumes of Quality Sermon Material: Each volume contains approximately 75 messages, giving you a grand total of over 450 sermons!
📄 2,800+ Pages of Content: Single-spaced and meticulously crafted, these sermons are a goldmine for any preacher.
🔍 Versatile Messages: Most individual sermons could easily be expanded into a series, offering you maximum flexibility.
✅ Biblically Sound: Authored by those committed to the inerrancy of Scripture, ensuring that your preaching is grounded in the Word of God.
📥 Word and PDF Formats: Receive all materials in both Word and PDF formats, allowing you to use them as is or adapt them to your own style.
⚡ INSTANT DOWNLOAD: Get immediate access to all six volumes as soon as you place your order.
Why Choose the "Expository Sermon Collection"?
This collection is a preacher's dream come true! With over 450 sermons spanning more than 2,800 pages, you'll have enough material to fill over 8 years of preaching. Whether you're a seasoned pastor or a new church leader, this resource equips you with a wealth of sermons that are both versatile and biblically sound.
📜 Elevate Your Preaching with Over 8 Years of High-Quality Sermon Material! 📜
Don't miss this opportunity to enrich your sermon repertoire with biblically grounded, expertly crafted messages. Order now and take your preaching to the next level!
👉 DOWNLOAD AVAILABLE IMMEDIATELY AFTER YOUR ORDER! 👈

Note: Material originally published in 14 Volumes as Wells of Living Water by Dr. R.E. Neighbor – edited, updated, and heavily revised by Dr. Barry L. Davis.