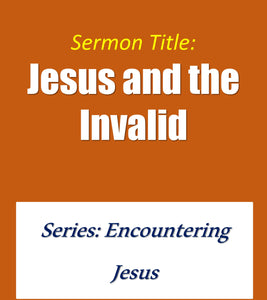 This is the Introduction to the Sermon. You will receive the full manuscript sermon in Word format when you purchase.
Title: "Jesus and the Invalid"
Series: ENCOUNTERING JESUS
Some of us live lives that never begin to reach their potential. It is almost like we live in this straight jacket – though it confines and constricts us, it feels safe. It's the only thing we've known, so it feels kind of protective even though it is restrictive.

In the close encounter with Jesus that we look at today, He asks a very important question. It's a question not to be taken lightly or responded to too quickly. The question is: Do you want to be well? Do you want to be whole?  

A lot of us today choose to live in our sickness, addiction, sin, or dysfunction, rather than make the tough call to accept the unfamiliarity of a new life in Jesus.  Let's take the time to read the story of a man who was given a choice, and better understand Jesus' role as the Great Physician.