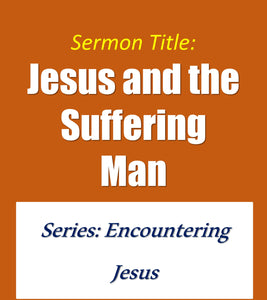 This is the Introduction to the Sermon. You will receive the full manuscript sermon in Word format when you purchase.
Title: "Jesus and the Suffering Man"
Series: ENCOUNTERING JESUS
Where is God in suffering? This is a legitimate question that is asked often. If God loves us, and wants the best for us, why do things sometimes go wrong for us? Why do some people get diseases, or have deformities, or have lives that are all messed up? Where is God when we suffer?
These are all great questions, some of which we can answer, and some of which we cannot, but I think that the Bible can give us enough of an answer to satisfy us. In John 9 we read the amazing account of Jesus, His disciples, a blind man, and the Pharisees that helps us to see how God views suffering – especially in contrast to how humankind views it. I want us to begin today by considering that there are four perspectives of suffering in our text that well represent the basic views of suffering today: