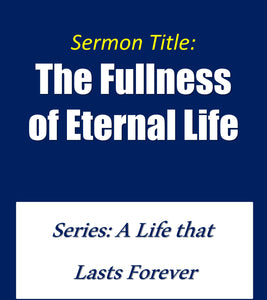 This is the Introduction to the Sermon. You will receive the full manuscript sermon in Word format when you purchase.
Title: "The Fullness of Eternal Life"
Series: A Life that Lasts Forever
Introduction:
[1]Two ministerial students from Samford University in Birmingham, Alabama, were doing summer evangelistic work in a rural area near Montgomery. One hot day they stopped their car in front of a farmhouse and proceeded up the path through a gauntlet of screaming children and barking dogs. When they knocked on the screen door, the woman of the house stopped her scrubbing over a tub and washboard, brushed back her hair, wiped perspiration from her brow, and asked them what they wanted.
"We would like to tell you how to obtain eternal life," one student answered.
The tired homemaker hesitated for a moment and then replied, "Thank you, but I don't believe I could stand it." [end of illustration]
I think I would have to agree with that lady IF I thought that eternal life would mirror everything that is going on in this life. But the good news is that it is going to be a very different kind of existence than what we have here.
Many of us have had to deal with tragedies beyond our imagination – cancer, loss of a loved one, loss of a job, failed relationships, and so on. And as we experience these different tragedies of life it is difficult to deal with them, both emotionally and spiritually.
Yet, even in the midst of turmoil and strife we are able to rejoice as believers in Jesus Christ. And we are able to do this because we find ourselves focused on the greater reality of what is yet to come as a result of our relationship with Jesus Christ – the fullness of eternal life.
Let's look at three reasons we can celebrate the fullness of eternal life today.
[1] Derric Johnson, Easy Doesn't Do It, (Y.E.S.S. Press, 1991), p. 217