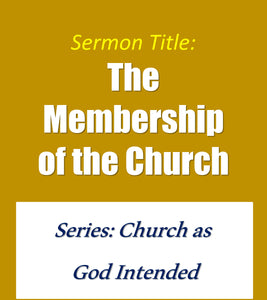 This is the Introduction to the Sermon. You will receive the full manuscript sermon in Word format when you purchase.
Title: "The Membership of the Church"
Series: Church as God Intended
Introduction:
[1]In Elyse Fitzpatrick's book, "Because He Loves Me" she shared the following story:
A number of years ago, my husband and I had the wonderful opportunity to vacation in Europe. In about three and a half weeks we visited thirteen different nations. When we'd enter a country, we'd get our passports stamped, exchange currencies, learn a few key phrases, and then off we'd go to visit the natives. We'd wander through outdoor markets, peruse museums, and sample the cuisine. We'd exchange a few niceties with the locals, sit on the steps of cathedrals, watch the life of the town go by, take a picture or two, and purchase a little something to remind us of our time there, and then we were off. We had a wonderful vacation. Our hearts weren't changed in any significant ways by our little visits, but then they weren't meant to be. We were tourists.
It seems to me that what I've just described is very close to many people's understanding of the congregational life of the local church. On any given [weekend], many tourists can be found in church. They pop in for forty-five minutes or an hour, sing a chorus or two, and exchange niceties with the locals …. They sample some of the local cuisine, they might purchase a book or CD to remind them of their visit, and then they race to their cars to get to their favorite restaurant before the rush or home before the game. For many people, church is simply … about being a tourist, and our land is filled with tourist-friendly churches.
Ouch! I didn't like reading that, but the more I've thought about what she had to say, the more I agree with her. Certainly everyone doesn't fit her description, but unfortunately, many do.
I have to wonder if some of the problem lies in the fact that we do not do a great job explaining to people what their role is in the church? Many people view the church as tourists because, frankly, many times that is how we've presented the church to them.
But what if we did something different? What if we showed people that being an involved member of a church was not only a good thing to be, but a necessity for their spiritual lives? You see, I believe that belonging to a church, and not only belonging, but being an active part of a church, is absolutely essential for a child of God if he or she is going to live out their spiritual life to its full potential.
Let me share with you four reasons being an active part of church is important.
[1] Elyse Fitzpatrick, Because He Loves Me (Crossway, 2010), pp. 173-174