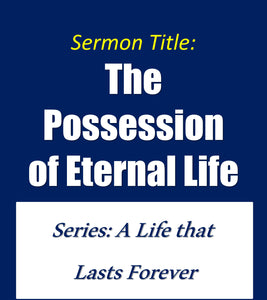 This is the Introduction to the Sermon. You will receive the full manuscript sermon in Word format when you purchase.
Title: "The Possession of Eternal Life"
Series: A Life that Lasts Forever
Introduction:
Paul David Tripp writes:
[1]"Most of us have no pilgrim experience, so perhaps the closest thing in our experience to the journey of a pilgrim is rustic camping. I am persuaded that the whole purpose of camping is to make a person long for home! On that first day in the woods, putting up the tent is exciting, but three days later your tent has unpleasant odors you can't explain. You love the taste of food cooked over an open flame (that's ash!), but three days later you are tired of foraging for wood and irritated by how fast it burns. You were excited at the prospect of catching your dinner from the stream running past your campsite, which is reported to be teeming with trout, but all you have snagged are the roots on the bottom.
You're now four days in and your back hurts, there seems to be no more felled wood to forage, and you're tired of keeping the fire going anyway.
You look into what was once an ice-and-food-filled cooler to see the family-sized steaks you have reserved floating gray and oozing in a pool of blood-stained water. Suddenly you begin to think fondly of home …. You stand there hoping that someone will break the silence and say, "Why don't we go home?" Your four days in the wilderness have accomplished their mission. They have prepared you to appreciate home!
Our world isn't a very good amusement park. No, it's a broken place groaning for redemption. Here is meant to make us long for forever. Here is meant to prepare us for eternity." [end of illustration]
Do you long for eternity? Do you look forward to the day when you can leave this life behind, with all of its sorrow, sickness, death, and disappointment? While this world has much to offer, and we are grateful for it, we also know that there should be more to life than this – and there is – life eternal which is waiting for us beyond the grave.
But how do we receive eternal life? How do we know that we have it in our possession? The Bible gives some very clear-cut answers.
[1] Paul David Tripp, Forever: Why You Can't Live Without It (Zondervan, 2011), pp. 37-39