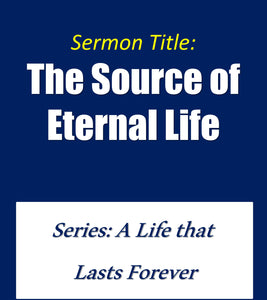 This is the Introduction to the Sermon. You will receive the full manuscript sermon in Word format when you purchase.
Title: "The Source of Eternal Life"
Series: A Life that Lasts Forever
Introduction:
[1]Bill Donahue and Russ Robinson shared the following remarks of Lyman Coleman as he reflected on the death of his wife, Margaret:
"The most painful decision of my life was asking God to take her home. She had been suffering from repeated brain seizures and her body was wasted. I whispered in her ear: "Honey, I love you. I love you. Jesus wants you to come home. We are going to be all right. We give you permission to let go." She closed her eyes and fell asleep….
"As I write this letter, I realize I am without my editor. My greatest critic. My teammate. Soulmate. Prayermate. Partner in everything. We traveled the roads less traveled together in hard times and good times. Honey, I miss you. I miss you. I miss you. I will keep the light on for the kids. I will be there for friends. And one day, we are going to join you. All of us. Because Jesus promised it. "Precious in the sight of the Lord is the death of his saints." [end of illustration]
Lyman was able to write these words with confidence, because he knew the source of eternal life, and he and his wife had placed their trust in that source.
When we speak of "eternal life" in this new series, we are speaking of a life without end. We are speaking of a life that continues once this life is past. We are focusing on that eternal life that God has promised to all who place their trust in His Son, Jesus Christ.
Today, we want to focus on the Source of Eternal Life.
[1] Bill Donahue and Russ Robinson, Building a Church of Small Groups (Zondervan, 2001), p. 61