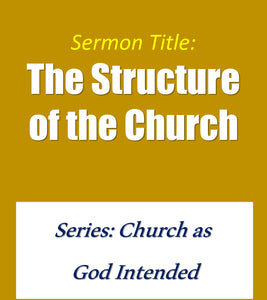 This is the Introduction to the Sermon. You will receive the full manuscript sermon in Word format when you purchase.
Title: "The Structure of the Church"
Series: Church as God Intended
Introduction:
[1]The following list contains four distorted images of the church:
The church as a gas station. For some people today, the church is a place where you fill up your spiritual gas tank when you're running low. Get a good sermon, and it will keep you going for the week.
The church as a movie theater. For many people, the church is a place that offers entertainment. Go for an hour of escape, hopefully in comfortable seats. Leave your problems at the door and come out smiling and feeling better than when you went in.
The church as a drug store. For other people, church is the place where you can fill the prescription that will deal with your pain. For many the church is therapeutic.
The church as a big box retailer. Other people see the church as the place that offers the best products in a clean and safe environment for you and your family. The church offers great service at a low price—all in one stop. For many people, the church is a producer of programs for children and young people.
To gain a correct perspective of the church, we need to understand the way that God structured it. Last week we saw that the church was a part of God's eternal plan, but what exactly did He plan for it to be? Let's look at three aspects of the structure of the church to help us gain an accurate understanding.
[1] Colin Smith, from the sermon "The Church: Sharing the Passion of Jesus"