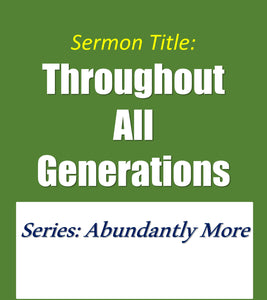 This is the Introduction to the Sermon. You will receive the full manuscript sermon in Word format when you purchase.
Title: "Throughout All Generations"
Series: Abundantly More
Introduction:
[1]In his book, Nearing Home, Billy Graham talks about what it means to leave a legacy to the next generation:
When Coca-Cola changed its one-hundred-year-old formula in 1985, there was a public backlash and demands for the original, so within two short months the company was forced to return the beverage to grocery shelves under the name of Coca-Cola Classic, spiking sales for the soft drink company. The conclusion of marketers was that the formula had stood the test of time. The trade-secret had trumped the new recipe, as proven by the millions of fans who did not want the "real thing" tampered with.
What does this have to do with growing old? Old is authentic. Old is genuine. Old is valuable. Some say old is even beautiful …. The older generation may have a hard time keeping up with the younger, but let's remember that as long as we are still breathing, we are leading the way. The generations that follow are learning about growing old from us. Are we good examples? While we have all made mistakes and would like to turn back the clock to correct some things, we know this is not possible. But the lessons we have learned from our successes and failures can help those following behind. The impact we can potentially have on them can mean the difference between leaving good memories in our place or simply being out of sight, out of mind.
We want to focus on the last section of our series text today:
Now to him who is able to do far more abundantly than all that we ask or think, according to the power at work within us, to him be glory in the church and in Christ Jesus throughout all generations, forever and ever. Amen. -- Ephesians 3:20–21 (ESV)
We want what we have been learning from God's Word to be passed down through all generations. That means I pass it to my kids, and they pass it to theirs, and they pass it to theirs, and so on. And you and your family do the same.
The Bible tells us to:
Train up a child in the way he should go; even when he is old he will not depart from it. -- Proverbs 22:6 (ESV)
That training should include learning about the abundance God has for us, and experiencing the power God gives us through the Holy Spirit, and giving God the glory that He deserves. But it is one thing to say that, and another to do something about it. Here's the big question:
HOW DO WE PASS IT ON?
[1] Billy Graham, Nearing Home (Thomas Nelson, 2011), pp. 20-21